Toilet Repair Humble TX - but we can fix all of them.
We listen to You and make the best recommendations
Toilets are some of the most importance facilities in any home and can create an inconvenient atmosphere if they are not repaired as well as they need to and your family has to cut back on the number of commodes it has at its disposal.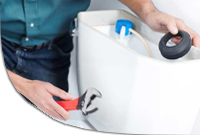 Blockages, leaks and slow flushes are some of the most common problems, but we can fix all of them. Are you able to make simple toilet repair such as leakages and continuous water running? You could be losing a lot of water, but we can help reduce your utility bills if your commode's tank is emptying itself.
Once our plumbers do toilet installation, you will start saving money, which is good for your pocket book. This is especially true if you have been wasting water with leaks or tank emptying itself when no one has used the commode. When it comes to handling your toilets installation or repairs, no one does it better than we can.